"I run a huge multi-million dollar company and I probably have Peterborough and my time at Phantoms to thank for that success !"
In the summer of 2006, Phantoms signed 26 year old forward Taras Foremsky from CHL side Memphis RiverKings and launched an all too brief Phantoms hockey career that is still fondly talked about twelve years later !
Taras was the sort of dynamic, swashbuckling, all-action player with a kit bag full of attitude that wouldn't be allowed near this country's more sterile hockey of today but back then it was a perfect fit with a fanbase who liked their hockey full on and "in yer face". Taras loved scoring, something he did 55 times in 58 games and his partnership with fellow new signing Brent Gough was one of the finest seen in decades of Peterborough hockey.
Off the ice, Taras was a very driven guy. He believed in himself and he needed that belief in order to perform at his best. Some saw that as being egotistical which is something us Brits are never comfortable with but I grew to understand Taras as a very genuine guy who had a very genuine passion for his club and for his teammates. He was never afraid to wear his heart on his sleeve, a characteristic that endeared him to his fans, targeted him amongst his rivals and, ultimately, cut short his time at the club.
I caught up with Taras recently to find out how life has moved on post UK hockey and was delighted to find out that he has not changed one bit !
We'll start at the end so far as your time in the UK was concerned, what brought about your departure from Guildford ?
It was a very tough decision for me to leave Guildford and pro-hockey. I had a lot of phone calls after not re-signing with the Flames but the honest bottom line was that it was all about work and health. I had a business to come back to here in Calgary and my wife Heather was a Nurse in Canada and was ready to start her life over again. The second real reason was that I was having trouble putting on my socks in the morning ….. the 25 years of playing contact hockey had really caught up with me and it all happened really fast. I wanted a family and I kind of got scared that I wouldn't be able to pick them up or enjoy my life so I retired. I don't regret it but I do miss it more then anything and I'd never lie about that.
So what then happened when you got back home ?
Well I played some hockey in Sask (Saskatchewan), Canada for money in a little semi-pro league but in the last month of the season my wife told me our dreams had finally came true and we were expecting our first child and, to be honest, life has never been the same since hahaha ! Now I only play Rec Hockey in the Heritage League and to be honest I do it for my health …… I love the workout and I love the dressing room the same as I did in pro days even if Heather still gives me shit for going to rec hockey two hours before the game starts !
Tell us who makes up the Foremsky family now ?
Heather, my wife, and I have two beautiful daughters …… Alexis Faith Foremsky (age 7) and Berkley Anne Foremsky (age 5) ….. oh and my prize dog Waffles who is the only other male in the family !
…… and what about the business ?
When I came back from the UK, I jumped straight into my role as owner and operator of Second to None Meats – our family butcher shops – but two years in I sold most of the company and took a risk and went on my own with my father and left the meat shops behind. We opened our own Meat Distribution Company and took a step away from the Retail stores.
Looking back I'm surprised I did it but I've never been happier in my life. Community Wholesale Meats, Gourmart Meats, VDG Salumi and I am the Ex Vice President of Fine Food Stop who we sold to an American Company. We total over $20million in sales and I have owned or do own them all.
So how does Taras Foremsky, the business boss, operate ? 
I work very hard but I really can't believe what has come of this over the last eight years. We are the largest Supplier of Natural Alberta Product and most days I'm driving around to all the locations or I'm in my office making calls and doing sales. As for the employees I have …… I'll be straight and honest a lot of times but I'm just making sure everyone and everything is done right. I have around forty people who work for me and we supply around 150 top end restaurants here in Alberta plus a ton of retail places as well.
I hope you find time to enjoy all this business success !
I do ! Heather and I bought our dream house a couple of years ago and both our daughters go to a school that I can hit with a rock from my back deck. My Parents, who I kind of bought out of these companies (my dad is in the office beside me right now because he'll never really retire !) live in Phoenix, Arizona and on a lakeside in the Summers in British Columbia. Wally finally bought his brand new Corvette sports car and though he is here most days because I still need him to help with how busy we are, he is "semi retired" as he likes to say !
I'm truly blessed and happy with how my life has gone but it hasn't always been without risk and stress. Heather is still a nurse and working shifts but we do holiday all the time in Arizona or Mexico and we're currently getting ready to go to Disneyland next week ……  I'm taking everyone in my family and extended family for a week there as we do every year.
Any other sporting interests ?
Golf …… I play about 100+ rounds every year with either clients or friends and I'm a member at Inglewood Golf and Country club …… you'll probably find me there most days of the summer !
Any good ?
Well my handicap is about a 5 ! When I retired from hockey, I wasn't sure what I would do to put all my athletic energy into but I found out that golf was my new passion …… and tattoos of course !
Lets get back to the hockey and, in particular Phantoms hockey ….. what are your abiding memories of playing in Peterborough ? 
This sounds a bit weird but I do say it all the time, I actually have more fond memories of my year and a half in Peterborough than any of the other stages in my hockey career. Maybe it was the success Brent (Gough) and I shared out on the ice.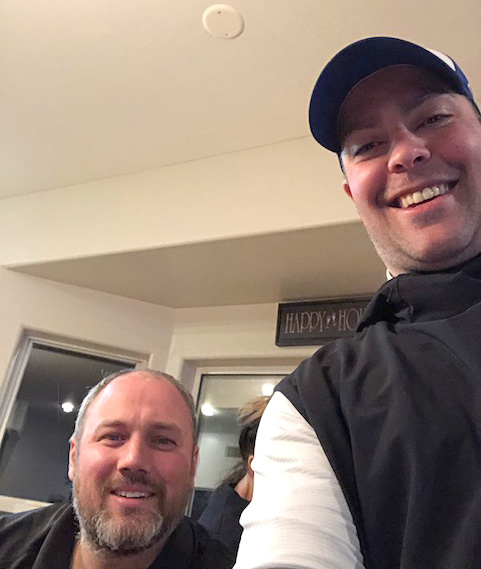 Do you still keep in touch with Brent ?
Yes I do …… I talk to him all the time and we spent some time with Brent, Carly and the kids earlier this year and try to get together as often as we can. I'm very proud of his coaching career and I follow him very religiously. I'm still Facebook or Instagram friends with a lot of my old teammates but Brent is the only one I try and see every year (see right from earlier this year).
…… and I bet you can still remember every goal you scored for Phantoms ?
You bet ….. I can remember every one of my Phantoms Goals but, strangely enough, I don't remember all the Flames ones if I'm being honest ! I loved the crowd at Peterborough and loved playing in front of them and although I don't follow much hockey these days, I do wonder if anyone has ever put up the numbers Brent and I did back in those days ! We don't talk about hockey as much now when we meet up but I think we both know how special it was in Peterborough.
We do tend to do things differently in Peterborough but that often throws up good memories when I talk to ex-players !
Definitely …… I remember I used to come to games three hours early to clean the boys stalls and showers and to vacuum and do the laundry ….. and I loved every minute of it and all of my time there. I enjoyed the lifestyle in Guildford too and met some amazing people that I'm still in touch with but Peterborough just seemed so different.
I'm pleased to hear that the less than ideal ending to your time here hasn't tarnished your memories.
The end of it all at Phantoms was very disappointing for me but I wouldn't change a thing to be honest. It taught me a lot about who I am and as the legendary Michael Jordan once said, it was the many times he failed that was the reason why he eventually succeeded. I can't look back and dwell on it because it seriously taught me a lesson that I use every day in my companies.
No hard feelings towards coach Phil David who called an end to it all ?
No. In brief, I feel he was wrong and I was right but that still gave me no reason to call him out like I did. The whole thing taught me about things like compassion and that people make mistakes and its okay. I run a huge multi-million dollar company and I probably have Peterborough and my time at Phantoms to thank for that success.
I always give my employees second chances and I preach positivity and let my people have a voice whether I agree with it or not. I have compassion for my guys who use their blood, sweat and tears to make my company possible and I try to lead by example.
That sounds exactly like the Taras Foremsky I recall from Phantoms days ! 
As you know, I'm an ego driven maniac who wants to be the very best and I can't change that ! I'm the first person here and I'm always the last to leave. I'm the hardest worker and I never ever quit and, last but not least, I live everyday like it's my last because man things can change in a heartbeat ! In hockey, one minute you're on a 5on3 powerplay, the next your packing your bags for Guildford !
A lot of that drive is a direct result of my eventual failure with the Phantoms organization. I have your picture on my wall to remind me of that ….. the rest of the pictures in my office are of my daughters and my favorite baseball team !
Thanks for your time here Taras. The only reason I came back to talk to you was because fans in Peterborough were asking "what ever happened to Taras Foremsky" with one current Phantoms player also naming you as his "all time favourite". I guess being remembered like that is the best testimony to your time here and the impact you had ! 
I said in an interview in Guildford how much I loved the fans of Peterborough and it is still true to this day. Hands down, the greatest years of my life. I don't get to talk about my hockey career much, I'm mostly in a suit or working, cutting and designing menus with Chefs. I have lots of exciting things in my life to look forward to and I don't plan on stopping when it comes to growing my brand.
Thanks to all the great people in Peterborough …… hope the Phantoms are doing amazing and please say hi to everyone !!!